How can you go live on Telegram from Flutin?
This article will guide you to go live on Telegram from Flutin live streaming platform.
Written by

Flutin
Last update 11 months ago
Here's a step-by-step guide for Telegram Live Stream from Flutin:
You need to first log in to your Telegram account. You can do so by either installing the PC version of the Telegram app and login there or by connecting your mobile Telegram app with your laptop by scanning the QR code from your phone.
Click on that three horizontal lines icon on the top left-hand side. Click the "New Channel" button from the list. Enter details such as channel name and description (optional). You can also upload a picture for your channel by clicking on the big camera icon above. You can then add members from your contact list visible on the left side of your screen.


Go to the channel name displayed above the messaging screen. Click on the three-dot icon appearing at the top right corner. The "Manage Channels" button allows you to change your channel privacy (i.e., public or private) and select the type of reactions you want your viewers to give. There's also an option to turn on "Sign Messages".
After you have done the above, click on the chat icon in the top right corner of the messaging window. Select "Stream with…" from the drop-down list. The RTMP server URL and the stream key will now be available for you to copy. It is recommended to keep this window open for convenience.

The next step would be to login into your Flutin account via Facebook or email. If you don't already have an account, make sure you sign up and create one by filling in all the necessary details.
Click on the "Channels" section on the left side of the page.
Select "Custom RTMP" from the list of options available. You can first add your nickname for the stream.
After that, you need to copy the RTMP URL and the stream key generated on the Telegram app under the respective sections on the Flutin page. Since you have the tab ready, it should be completed in no time. After copying, turn the RTMP toggle green on the right side of the page.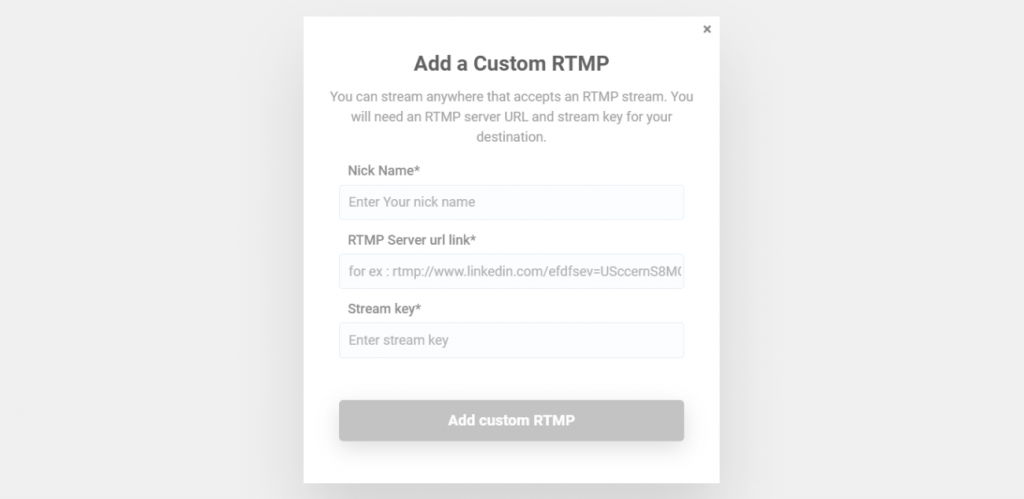 You can finally either schedule a stream or hit the "GO LIVE NOW" button and enter relevant details about your event. After you hit the final "Go live" button, you then need to select the "Start Streaming" option on the Telegram app and enjoy your live stream.
Related Topics:
Join our Facebook Community to get regular updates and interact with fellow streamers.
Follow us on our social media accounts:
Did this answer your question?